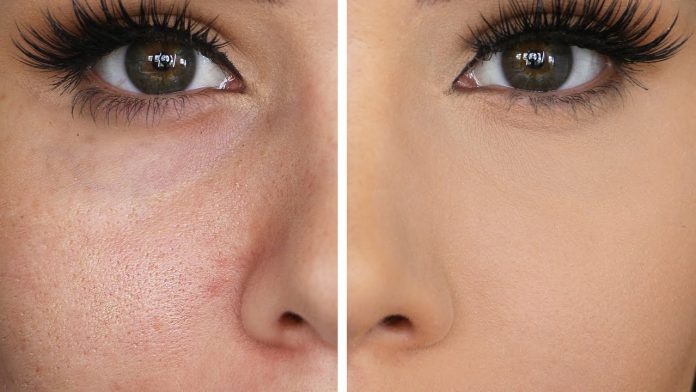 If you have sensitive skin especially in winters when the skin becomes too dry, rough, dull and you are hesitating to put on chemicals on the skin, then try making homemade toner which is free of chemicals and free of any harsh agent and makes the skin bright and shrink enlarged pores.
Our skin is covered with millions of tiny pores. Even though the vast majority of these pores are invisible to the naked eye, they are very important to the health and well-being of the skin.
I love discovering DIY beauty tips, especially all-natural solutions that can be prepared easily at home.
How to minimize pores on the face?
Skip the store-bought versions and make this own homemade toner which is an open pores treatment with powerful ingredients that are effective for pores to shrink. Why use commercial products when you can make them at home naturally.
To achieve the clear and bright skin, use this cleanser for bright and glowing.
What Are Open Pores?
Open pores are small pit-like pore that appears on the skin. Having pores on the skin makes the face dull and old. Usually, open pores are common in combination with oily skin. Clogged pores lead to other skin pores like pimples, blackheads, and excess sebum production.
What Are The Causes Of Open Pores?
Causes of large looking open pores.
Several factors can contribute toward the enlargement of open pores.
Genetics.
Smoking.
Sun Exposure.
Age.
Excessive Oil Secretion.
Scrubbing
Excessive sweating.
Unhealthy Diet.
Hormonal Changes.
Hereditary is the top cause of enlarged pores. Skin expert also says that genetics plays an important role in the relative prominence of the pores. This means that to a large extent you will probably be unable to exert complete over the way your pores look
Smoking:
Cigarette smoking can add to facial pores. If you have particularly enlarged pores, smoking can surely worsen the situation. Smoking causes non-inflammatory acne, characterized by blocked pores.
Sun Exposure:
Sun damage makes the skin thicker which leads to bigger pores. Prolonged sun exposure can also remove collagen and elastin from the skin, which causes the tissues beneath the skin to pull at the edges of the pores, making them sag and look bigger.
Age:
As you grow old, the skin loses its elasticity, which causes the skin to sag and stretch, making pores appear larger.
Excessive Oil Secretion:
Pores become clogged with oil, dead skin, and dirt, or they can appear prominent as a result of too much excessive oil. High levels of oil production (sebum), reduced elasticity around pores.
Scrubbing:
Too much scrubbing the face, makes the pores enlarged.
Excessive Sweating:
Sweat attracts oil and dirt.
Unhealthy Diet:
Eating fried foods often cause sebum production.
Hormonal Changes:
Androgens increase sebum production, which leads to increased pore-clogging. Changes in the hormones increase sebum production, resulting in open pores.
How To Get Rid Of Open Pores On Face
Open Pores Treatment At Home
Best Homemade Toner For Open Pores
How to close open pores on face permanently
Miracle Toner For Open Pores | Open Pore Remedy
Ingredients:
Fresh orange peel (of 1 medium-size orange)
Fennel Seeds (2 tablespoons)
Green tea bag (2 bags) or green tea (2 tablespoons)
Rose Water (1 cup)
Plain water (half cup).
How to make toner at home for open pores:?
Take a pan.
Add half cup rose water along with orange peels.
Let it boil properly for 5 minutes on medium to low flame.
Drain the orange peels.
Again take a pan, add rose water half cup, and fennel seeds.
Let it boil for 4-5 minutes. Make sure to cover the lid while boiling fennel seeds.
Drain the fennel seeds.
Again take a pan, pour half a cup of water in a pan and add green tea bags.
Let it boil for 3-4 minutes.
Drain the green tea bags.
Finally, mix all these three properly.
Let it cool.
Keep it in a bottle.
Miracle orange peel, fennel seeds, and green tea toner are ready.
How to store?
Keep this in a refrigerator. This toner can last for 10 days at a cool temperature.
How to use homemade toner for open pores?
Wash the face with a cleanser according to the skin type.
If the skin is dry and rough, try this homemade cleanser to get rid of dehydrated and dull skin. If the skin oily and acne prone, try this homemade soap to get rid of pimples and acne.
Apply this toner all over the face.
Leave it on the face.
No need to wash the face.
You can spray this toner on the face.
or
you can dip a cotton ball/pad in the toner and apply.
Apply a moisturizer.
Homemade toner for skin whitening:
This toner is also for skin whitening. Orange peels work as a skin lightening agent and do wonders for marks. It is a natural bleaching agent too. Regular use of this toner makes the complexion bright.
Homemade face toner for daily use.
Ingredients used in this DIY toner is all-natural and very effective for all skin types. This toner cannot harm any type of skin and very beneficial for the skin. Regular use of this toner, shrink enlarged pores and leaves the skin glowing and smooth.
NOTE: Natural ingredients do not contain any preservatives so always prepare in a small amount.