Concerned about spots on your legs? Spots or darker patches may often be the result of melanin (what gives your skin its color) concentrating in one area. Finding the root cause of dark/black spots on the legs is key to choosing the right treatment. Here you are on the right platform to find the causes and natural treatments to remove spots on your legs with natural ingredients.
Some of the spots on legs are harmless, while others might be more serious – ranging from sun damage to melanoma or clogged pores. Depending on the root cause, these dark spots can develop further in different ways.
Some vitamins are recommended to help with dark spots on the legs or any hyperpigmentation of the skin such as vitamin C, vitamin B12, and vitamin E. Vitamin C and B12 are useful for boosting collagen production and helps new cells to grow and vitamin C inhibits melanin. Vitamin E is most well-known for reducing scarring and decreasing the appearance of dark/black spots on all over your skin. You can also use vitamin E directly on your skin to reduce spots and get healthy skin.
Causes Of Spots On Legs
Excessive sun exposure
Improver shaving.
Melanoma
Clogged pores.
Folliculitis
Post-inflammatory hyperpigmentation
Keratosis Pilaris
Diabetes
Other causes Of Spots On Legs:
Addison's disease
Tinea versicolor
How To Remove Spots On Legs
Here are simple steps that you can easily follow at home to remove spots on your legs and get smooth skin naturally.
Oil Massage For Spots On Legs:
Oil massaging is best for skin for both the face and the body. Regular massaging boosts collagen production prevents premature aging, adds glow, and lightens overall skin tone.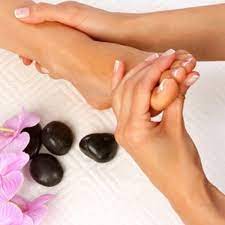 How To Massage On Legs?
Take a bowl.
Add 1 teaspoon of coconut oil, 1 pinch of turmeric, and ½ tablespoon of lemon juice.
Mix all the ingredients well.
Wash your legs with a body wash.
Pat dry.
Apply this mixture of coconut oil.
Massage well for 8-10 minutes.
Leave it on as long as you can.
Repeat this twice or thrice a week for better results.
Make sure to moisturize or massage your legs after taking bath.
Other Oil:
Carrot oil.
Sweet almond oil.
Olive and lemon juice.
Turmeric Oil.
Exfoliate For Spots On Legs:
Exfoliating helps to remove dead skin cells and makes the surface of the skin look softer, smooth, vibrant, more polished, and healthy.
Exfoliation is necessary twice a week before shaving or waxing.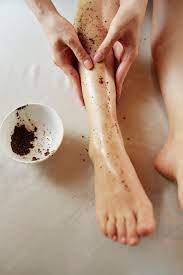 How To Exfoliate On Legs?
First prepare scrub for exfoliation:
Take a bowl, add ½ tablespoon of coffee powder, 1 tablespoon of rice powder, and 1 tablespoon of wheat flour.
Add 1 pinch of turmeric.
Add enough tomato juice or yogurt to make a paste.
Mix well to make a smooth paste.
Apply all over your legs and feet too.
Scrub for 4-5 minutes in a circular motion.
Leave it for 10-12 minutes.
Wash it off.
You can store the mixture of wheat flour, rice powder, and coffee powder.
Exfoliate your face for smooth skin
Moisturize For Spots On Legs:
Moisturizing your skin prevents a lot of skin issues. It keeps the skin balanced, hydrated, and soft and soothes rough patches and spots.
Moisturizing on a daily basis reduces the chance of developing dryness, itching, and flaking skin.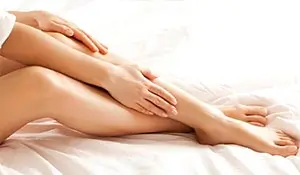 How To Moisturize Legs?
Aloe vera gel is the best natural moisturizer for the skin. It soothes skin, adds moisture, improves skin texture, and lightens skin.
Take a bowl.
Add fresh aloe vera gel or store-bought commercial aloe vera gel 2 tablespoons.
Add 4-5 vitamin e drops and 1 pinch of turmeric.
Add 2 tablespoons of cucumber juice (optional). Cucumber juice has excellent hydrating, lightening, cooling, and soothing properties.
Mix well.
Store in a container.
Apply daily before going to bed or as per need.
Make sure to moisturize your legs after a bath.
How To Prevent Spots On Legs
Avoid scratching.
Avoid sun exposure.
Apply sunscreen before going outside.
Wear fully covered clothes.
Use a gentle scrub.
Moisturize daily.
Avoid using chemicals and harsh skin-care products.
Do not over-exfoliate.
Frequently Asked Question
Q. How can I get rid of dark spots in 3 days?
You cannot remove dark spots from your legs in 3 days but you can lighten them. Below are more natural ingredients that help to reduce dark spots:
Buttermilk
Papaya
Gram flour
Honey
Orange peel powder
Q. Best cream to remove dark spots on legs?
Most doctors prescribe bleaching creams that contain hydroquinone (skin lightening agent). These can be combined with prescription retinoids (tretinoin) and mild steroids might reduce spots over time.
Q. How do I get rid of dark spots on my legs?
Profession treatments to remove dark spots on legs are:
Laser and intense pulsed light.
Freezing (cryotherapy).
Dermabrasion.
Microdermabrasion.
Chemical peel.