Home Remedies For Pimples: Remove Pimples Naturally
Make your acne disappear or get a visible change in your acne breakout in a week. Yes, this can happen with these effective home remedies for pimples. Read this post till the end and make sure to read all the tips and points to get rid of pimples naturally and permanently. Pimples are one of the most common skin concerns in the world, affecting an estimated 85% of people. The good news is that you can get rid of pimples in a natural way.
If you are going through frequent acne breakouts, then you must be tired of spending money on store-bought products that claim to remove pimples. Unfortunately, some acne products can cause side effects like redness, discoloration, itchiness, or dryness. This is the main reason; some people prefer home remedies to treat acne. Give a try to this home remedy that is simple natural ingredients, easy to make, safe, and suitable for all skin types. The main natural ingredient for this home remedy is Cinnamon. It is truly a magical agent for pimples, acne scars, and dark spots. 
If your acne is mild, then this home remedy is excellent for you and will work effectively. If you have a severe acne breakout, then you should consult a dermatologist.
Natural Remedies To get Rid Of Pimples
To get rid of pimples naturally at home, follow the 3 steps that are mentioned below:
Steam | Exfoliate | Face pack.
To start with the steam, wash your face with the cleanser according to your skin type only. The cleanser should be powerful that clean the skin well, remove impurities, dirt, and excessive oil from the surface of the skin. If you purchase from the stores, make sure to buy that are only for acne-prone skin or you can make your own face wash powder at home with only natural ingredients. 
DIY Face Wash Powder For Pimples
Steam: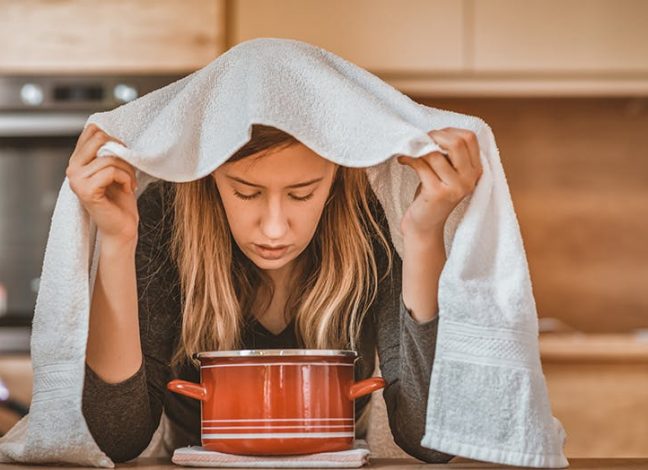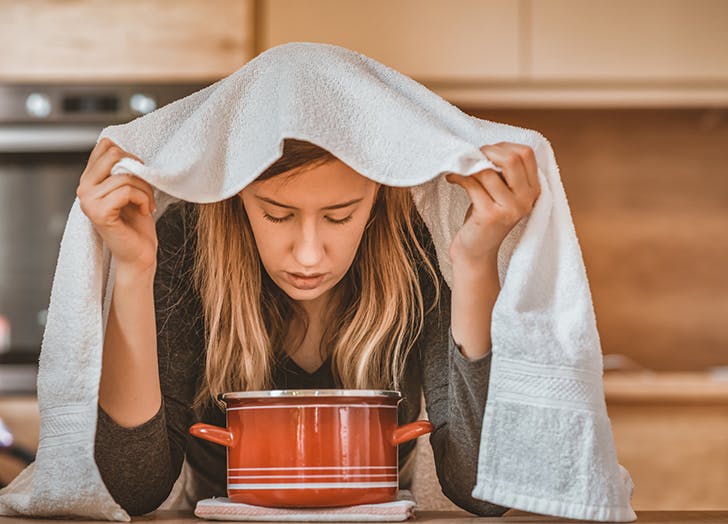 The best natural step to unclog/unblock pores of the skin is to take steam. Steam cleans out acne-causing bacteria that contribute to acne breakouts. It also helps open up the pores of the skin, clears the dirt, excessive oil, and softens the blackheads/whiteheads.
How To Steam Face For Pimples?
Take a pan.
Add water.
Allow it to boil.
Once it starts boiling, add cinnamon stick (2 medium sticks).
Give a good boil for 10-15 minutes.
Switch off the flame.
Steam your face for 10-12 minutes.
Exfoliate your face right after steaming.
Steam your face twice a week.
Exfoliate:
Prepare scrub to get rid of pimples.
Scrub your face thrice a week.
Homemade scrub for pimples:
Cinnamon powder (½ teaspoon)
Lemon juice (1 teaspoon)
Rice powder/neem powder/charcoal powder (1 tablespoon)
Honey enough to make a scrub.
Mix all the ingredients well.
Exfoliate your face gently.
Don't press your finger on the face.
Scrub for 5-8 minutes in a circular motion.
Make sure to be very gentle otherwise acne can go worst.
Wash your face.
Pat dry your face and apply face pack.
Face Pack:
Prepare face pack:
Apply this face pack daily or alternate days to get rid of pimples fast.
Homemade face pack for pimples:
Fuller's earth/ bentonite clay/ aztec indian healing clay/charcoal powder (1 tablespoon)
Cucumber juice/tomato juice (enough to make a paste)
Apple cider vinegar (½ teaspoon)
Cinnamon powder (½ teaspoon)
Mix all the ingredients well to form a paste. 
Apply on your face evenly. 
Let it dry completely. 
Wash it off. 
Apply moisturizer. 
Best light weight, non-greasy natural moisturizer is aloe vera gel. 
Follow these steps the same as written. You'll get the visible results in 8 to 10 days. If your acne is pus-filled and forming frequently, then you should see a dermatologist. Make sure you use a pure form of natural ingredients to use on your skin. If your skin is very sensitive or you are a teenager, then decrease the quantity of cinnamon and gradually increase day by day.
We often forget these minor things that should not be neglected. Keep in mind the following things as well to get rid of pimples naturally and permanently.
Tips To Get Rid Of Pimples
Drink plenty of water.
Detox water daily.
Keep the face clean.
Avoid touching your face.
Keep the hair clean.
Use non-comedogenic (products that won't clog/block the pores) skin-care products.
Use sunscreen according to your skin type.
Limit sun-exposure.
Limit makeup.
Change your pillow case thrice a week.
Use a separate towel for your face.
If you have any suggestions or questions regarding this post, please put them in the comment section below.